Henry Schell
M, #1897, b. 22 September 1770, d. 12 April 1859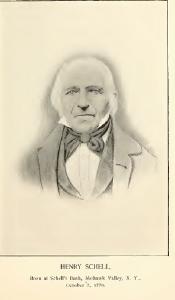 Henry Schell
Henry
Schell
was born on Saturday, 22 September 1770 at Schell's Bush, New York, USA. He was baptized, Sunday, 7 October 1770 at Stone Arabia, Montgomery Co., New York, USA.
John Henry
Widderste
and
Magdalena (?)
Widderste
witnessed the baptism. His name was recorded as John Henry.

To read more on his early life including his capture by the Indians,
please click here
. He and
Mary
Moyer
were married on Sunday, 13 April 1794 at New York, USA. Henry died on Tuesday, 12 April 1859 at his residence, Ingersoll, Oxford Co., Ontario, Canada, at age 88 years, 6 months and 21 days. Dennison states he died at the residence of his son Daniel.
Family

Mary

Moyer

b. 14 Aug 1775, d. 27 Sep 1860
Children