John Lawrie
M, #231, b. 15 September 1877, d. 19 November 1970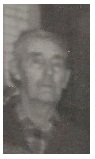 John Lawrie
Christmas 1965
John
Lawrie
was born on Saturday, 15 September 1877 at N 1/2 Lot 25, Concession 6, Scott Twp., Ontario Co., Ontario, Canada.
Dr.
William
Forest
attended at the birth. He witnessed the marriage of
Elizabeth
Leitch
and
Hiram Chesley
Coomer
.

He and
Ethel
Johnston
, daughter of
Joseph
Johnston
and
Louisa Jane
Lowes
, were married by
Reverend
E.
MacDonald
on Wednesday, 18 February 1914 at Zephyr, Ontario Co., Ontario, Canada. He is recorded as age 36, bachelor, farmer and Presbyterian. She is listed as age 22, spinster and Presbyterian.
Thomas
Sellers
and
Velma
Johnston
witnessed the marriage. John died on Thursday, 19 November 1970 at age 93 years, 2 months and 4 days.