Ethel Johnston
F, #413, b. 18 April 1892, d. 13 November 1974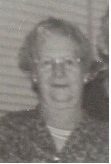 Ethel (Johnston) Lawrie
Christmas 1965
Ethel
Johnston
was born on Monday, 18 April 1892 at Brock Twp., Ontario Co., Ontario, Canada, the registration states her mother as Maggie Lowes.
Dr.
(?)
Parks
attended at the birth. She appeared on the census of 9 May 1901 in the household of
Joseph
Johnston
at Mariposa Twp., Victoria Co., Ontario, Canada. She was listed as: Johnson, Ethel, female, white, daughter, single, born 18 Apr 1892 in Ontario, age 8, of English origin, Canadian, Methodist, attended school for 3 months, able to read, write and speak English. She and
John
Lawrie
, son of
James
Lawrie
and
Jemima W.
Smith
, were married by
Reverend
E.
MacDonald
on Wednesday, 18 February 1914 at Zephyr, Ontario Co., Ontario, Canada. He is recorded as age 36, bachelor, farmer and Presbyterian. She is listed as age 22, spinster and Presbyterian.
Thomas
Sellers
and
Velma
Johnston
witnessed the marriage. Ethel died on Wednesday, 13 November 1974 at age 82 years, 6 months and 26 days.