Jesse Cook
M, #3117, b. circa 1846, d. 10 June 1909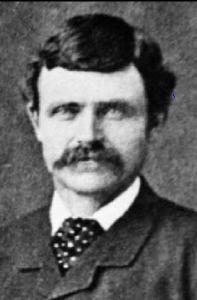 Jesse Cook
Jesse
Cook
was born circa 1846 at Ontario, Canada. He appeared on the census of 1861 in the household of
Samuel
Cook
at Whitchurch Twp., York Co., Ontario, Canada. He was recorded as: Jessy Cook, laborer, born Upper Canada, Wesleyan Methodist, age 16, male, single, male family member. He appeared on the census of 22 April 1871 in the household of
Samuel
Cook
at Scott Twp., Ontario Co., Ontario, Canada. He was listed as: Cook, Jesse, male, age 25, born Ontario, Wesleyan Methodist, of English origin, carpenter. He witnessed the marriage of
Margaret
Oxtoby
and
James
Cook
. He and
Martha E.
Raham
, daughter of
Charles
Raham
and
Phoebe (?)
Raham
, were married by
J. E. (?)
Heowell
on Wednesday, 22 December 1880 at Whitchurch Twp., York Co., Ontario, Canada. He was 34, born Markham Twp., living in Scott Twp., bachelor, mechanic, Methodist. She was 21, spinster, born and living in Whitchurch Twp., Methodist.
William Charles
Cook
and
Anna
Snider
witnessed the marriage. Jesse died on Thursday, 10 June 1909 at the Toronto General Hospital, Toronto, York Co., Ontario, Canada, due to peritonitis caused by carcinoma, duration of one week. States he was a lumberman of Zephyr Ontario.
Dr.
Joseph C.
Longchallon
was listed as the informant.

He was buried on Sunday, 13 June 1909 at Zion Cemetery, Zephyr, Ontario Co., Ontario, Canada.