Charles Franklin Milsted
M, #110, b. 8 November 1903, d. 24 December 1964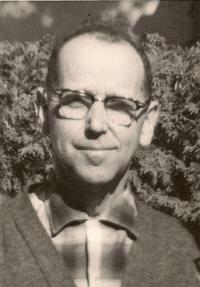 Charlie Milsted
Charles Franklin
Milsted
was born on Sunday, 8 November 1903 at Zephyr, Ontario Co., Ontario, Canada. He appeared on the census of April 1911 in the household of
William Marshall
Milsted
at Twp. of Scott, Zephyr, Ontario Co., Ontario, Canada. He is listed as: Milstead, Charlie, male, son, single, born November 1903 in Ontario, age 7, of English origin, Canadian nationality, Methodist, attended school for 9 months, able to read, write and speak English. He appeared on the census of June 1921 in the household of
William Marshall
Milsted
at Zephyr, Ontario Co., Ontario, Canada. He was enumerated as: Milstead, Charles, son, male, single, age 16, born Ontario, father born England, mother born Ontario, Canadian, English, speaks English, cannot speak French, Methodist, able to read and write, farm labourer. Charles opened a barber shop in Mrs. Gordon's sitting room in November 1933 at Zephyr, Ontario Co., Ontario, Canada. He and
Evelyn Margaret
Gooding
, daughter of
Thomas Alonzo
Gooding
and
Flossie Louisa
Duncan
, were married on Saturday, 15 August 1942 at Gormley, Markham, York Co., Ontario, Canada.


On the 25'th of March 1956, he flew by airplane to Vancouver, to attend his
Uncle Alfred's
50'th wedding anniversay. The newspaper article can be found
here
. Charles died on Thursday, 24 December 1964 at Ontario, Canada, at age 61 years, 1 month and 16 days, the victim of a vehicle accident.

He was buried at Heise Hill Brethern in Christ Cemetery, York Co., Ontario, Canada.

For details on some events of his life and the fatal accident, please read the newspaper articles found
here
.