William George Buffey
M, #138, b. 9 October 1895, d. 11 May 1970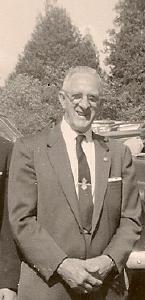 George Buffey c 1963
William George
Buffey
was born on Wednesday, 9 October 1895 at Collingwood, Simcoe Co., Ontario, Canada, and his father was the informant.
Dr.
(?)
McKay
attended at the birth. He began military service on 21 August 1915 at Halifax, Nova Scotia, Canada, when he signed his attestation papers on Aug 21, 1915 and became regimental #477124, with the Royal Canadian Regiment. His surname was written as Buffy, he was born Oct 9 1895 in Collingwood, Ontario, single, working as a carpenter. He listed his father Victor, Richmond Hill, as his next of kin. He was deemed fit for service on August 25, 1915 and was described as being: 5' 6" tall, fair complexion, blue eyes, light brown hair, Disciple Religion. He had no distinguishing marks.


He and
Betsy
Shaw
, daughter of
John
Shaw
and
Ida Cecilia
Johnston
, were married by
Reverend
R. Walter
Wright
on Wednesday, 22 August 1917 at Toronto, York Co., Ontario, Canada. He is recorded as age 21, bachelor, labourer, Methodist. She is listed as age 18, spinster, stenographer, Methodist.
Amos
Honsberger
and
Mary
Honsberger
witnessed the marriage.

He was listed as the informant on the death registration of
Cyril
Buffey
.

William died on Monday, 11 May 1970 at age 74 years, 7 months and 2 days, obituary states suddenly.

He was buried on Thursday, 14 May 1970 at Pine Hills Cemetery, Toronto, York Co., Ontario, Canada.